ULTIMATE CDR WRITING KIT
Listen, I know how horrible it feels when you first hear that you have to write 3 long essays to justify that you have studied Engineering.
I also know that when you graduated from university or started working as an engineer, you promised yourself that you will never write essays again in your life. That was the best feeling, wasn't it?
I can't even tell you how many people I have met in the past year who are not moving ahead with their PR application just because writing CDR is a big mental block in their heads.
2 years ago, I was there as well.
I had graduated with Engineering Science Degree which was not in the nominated occupation list for Australia. It was a nightmare when I found out that I have to write CDR to prove that I understand engineering concepts.
For about 2 months, I didn't do anything. I just stopped talking about my PR application.
But that is never the solution, is it? My CDR wasn't gonna write itself! Time was running out for me as it is running out for you now. Every year PR process becomes tougher than the previous year.
So the first thing I did was that I searched online, and I found 5 websites providing CDR Review Services.
Their prices ranged between $600-$1700 (yes, $1700 is not a typo).
Still, just to test them, I emailed them asking only ONE QUESTION.
"Can you share the profile of the person who is going to review my CDR?"
You guessed it right. None of them did.
They will never show you the people who are going to review your CDR. What are their qualifications? Which universities did they graduate from? What are their IELTS scores?
Most people running these businesses hire freelancers for cheap who copy / paste information from CDRs of their other clients, edit it a bit, and make one for you.
It's sad to see that most migration agents do the same.
Disappointed, I started doing what I always do.
I started reading everything there was on the forums, blogs, and Engineers Australia's website about CDR. It took a few weeks, but over time I became confident about the structure and intricacies about writing career episodes.
I spent another month preparing my CDR, which got positive Skills Assessment by Engineers Australia. No questions asked.
Since then I've written so many career episodes for other people that I almost feel like that I did my graduation in english literature and not in engineering!
But that's good news for you, isn't it? Finally someone is there who's been through the process himself, written CDR for himself and other people, and shares his profile openly with his readers.
I'm Waqas Hassan.
I scored 8.5 band in IELTS in 1st attempt (and I never used to speak English till the age of 20)
I graduated with Double Major – Engineering & Business – from National University of Singapore (last time I checked it was #1 Ranked university in Asia)
I completed my entire Australian PR application without the help of any migration agent (that saved me $2000)
Through AustraliaYours, I hope to save you those thousands of dollars as well.  
Introducing…
ULTIMATE CDR WRITING KIT
Today, you are stuck with your CDR.
You are looking at the blank pages of Microsoft Word and you have no idea what to write, how to write, and how many documents are needed.
You almost hate life!
But you decide to take one action today.
Today, you decide to get Ultimate CDR Writing Kit.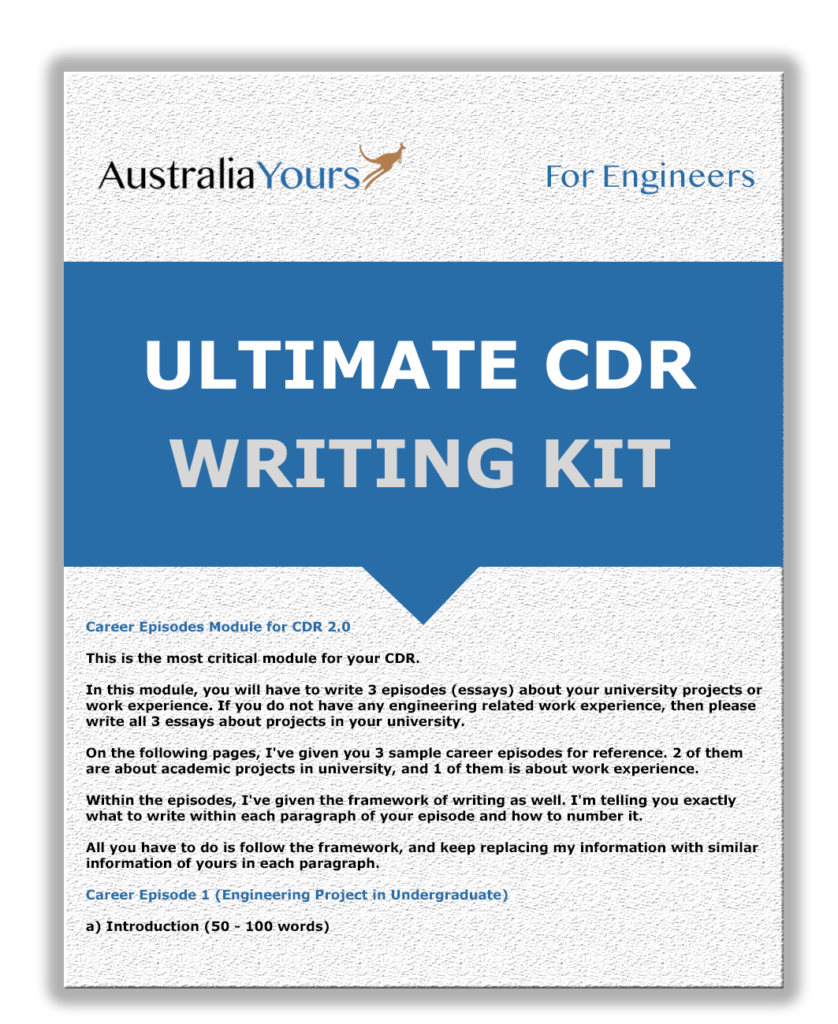 You will open it up to find:
3 Full Career Episodes Samples with framework to easily write your own episodes
1 CPD Report Sample with tips and ideas to create your own CPD
Summary Statement for Professional Engineer that you can use to replace with your own information in less than 10 minutes
My Resume (CV) that I've used to not only get positive Skills Assessment but also several high-paying job offers in the last 3 years. This is Gold Standard Resume that you can use to construct yours for PR, jobs, or anything else
Step-by-Step Screenshots Document with information on how to create your account on Engineers Australia's website, where to enter information, what documents are required, and how to navigate around the portal to add your information
Fast forward 1 week in your life.
You now have your own 3 career episodes ready.
You have a CPD and Summary Statement prepared and you are killing it.
And you have beautiful Resume (CV) prepared that you are going to use for next 5-10 years in your life.
Now you are feeling great about yourself!
Just like these other readers of AustraliaYours who have used Ultimate CDR Writing Kit to get positive skills assessment from Engineers Australia:
AN UNBEATABLE MONEY-BACK GUARANTEE:
100% RISK-FREE
AustraliaYours is made with readers at the center of it. That's why, I insist that you get 100% of your money back if you follow the procedure to create your CDR using this Ultimate Kit and you do not get positive Skills Assessment from Engineers Australia.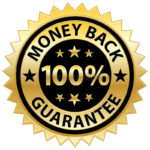 Ultimate CDR Writing Kit
Exclusive Readers Price $47

If you have any questions or concerns about the Ultimate CDR Writing Kit, I'm happy to help
IS THIS RIGHT FOR ME?
CONCERN #1 – I DO NOT HAVE ANY JOB EXPERIENCE
Most of my readers either do not have any job experience, or it is not in the relevant field. For example, sales job or banking job would not count towards engineering experience.
It is perfectly fine to write all 3 career episodes on academic projects. In fact, it is often times easier to write episodes on academic projects because we have already written a project report back in the university days. Most of it can be recycled.
CONCERN #2 – MY ENGLISH IS NOT GOOD
CDR is not your English exam. For CDR, the thing that matters most is structure. They are not testing you on English. They are only evaluating whether you have detailed experience or not.
I know it is a challenge for most of my readers to write a detailed experience, that's why in this Ultimate CDR Writing Kit, I have not only provided samples for everything, but also provided exact framework in which you just have to replace my information with similar information of your own.
CONCERN #3 – THERE ARE SCAMMERS IN THE INDUSTRY. HOW CAN I TRUST YOU?
I started AustraliaYours for exactly this reason. To get rid of the scammers. I am the only person in Australia, creating content for South Asian community, whose entire profile is transparent and available on the internet.
On my Facebook, Instagram, and this blog, I share my real time experiences, stories, and processes. There are no hidden walls, no invisible curtains. I'm always approachable to my readers.
CONCERN #4 – WHAT IF I FOLLOW ALL THE INSTRUCTIONS IN ULTIMATE CDR WRITING KIT, BUT STILL DON'T GET POSITIVE SKILLS ASSESSMENT?
Email me. You will get a full refund. No questions asked. At the core of it all, AustraliaYours is all about adding value to readers and solving their burning problems. If it fails to deliver, it shouldn't cost you anything. So far none of the readers have any issue whatsoever. They are loving it.

Ultimate CDR Writing Kit
Exclusive Readers Price $47

If you have any questions or concerns about the Ultimate CDR Writing Kit, I'm happy to help