ULTIMATE GUIDE TO HACKING IELTS
IS NOW OPEN
SUBSCRIBE BELOW TO GET REGISTRATION LINK DIRECTLY IN INBOX
⇓
This is the only online video course that deconstructs the entire IELTS exam, and teaches you in a smart way. This will save you about 80% of irrelevant information that you otherwise end up consuming from books and tuition centres.
How much relief it is for you that someone is finally telling you that practicing more is not the solution?
Finally, you can only study what's relevant, learn smart techniques, score high, and within this year board the flight to Australia with your PR document in your bag.
Here are the scores of AustraliaYours Readers:
And, yours truly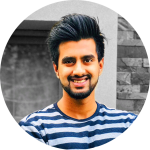 Waqas Hassan
Overall 8.5
Reading 9
Listening 8.5
Writing 8
Speaking 8
In this course:
You'll learn the exact strategies, frameworks, tactics, and examples of how to solve every section to score 8+ in each of the 4 components of IELTS.
And you won't just score high in IELTS. Using the methods in this course, you will develop speaking and writing skills that will help you in every sphere of life, starting with better jobs.
INSIDE THE COURSE
Module 1: Writing (19 video lessons)
You will learn 3 fundamental hacks, and the exact structures to write each Writing Task in an easy way, without learning any new vocabulary.
You will get sample questions to prepare using the hacks and strategies explained.
You will also see my examples and how I effortlessly tackle writing tasks by dividing them into small sections.
Module 2: Reading (21 video lessons)
You will learn 5 fundamental hacks, and strategies to identify and solve each of the 5 possible questions in the reading component.
I will also be solving each section in real-time basis explaining to you my thought process and how to apply hacks.
You will also get official tests together with answers for practice.
Module 3: Listening (12 video lessons)
You will learn 5 fundamental hacks, tips to avoid traps, and strategies to approach the listening component.
You will also see me take a timed-test with an insight into my mind. Of course, I will deconstruct it for you during and after the test.
You will also get 6 official tests with audio recordings and answers for practice.
Module 4: Speaking (14 video lessons)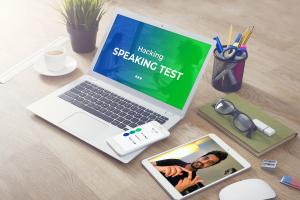 You will learn 5 fundamental hacks, exact structure to answer each question in all 3 speaking parts, 3 sub-hacks, and develop language skills as a non-native English speaker.
You will also get a ton of questions to prepare beforehand, and possible answers. 
You will also see my live-demo of the interview, which I will deconstruct for you highlighting critical things.
Bonus: Vault of Corrected Essays
Most people find it difficult to score a high band in Writing. In the past 1 year, I have corrected hundreds of essays of students. If there's one thing that I have noticed, it's that 95% of mistakes are similar among different students. Chances are you are doing those same mistakes.
You will also get access to Vault of Corrected Essays in which you will see real essays by students with my correction markings. You will be able to increase your score in Writing by 0.5-1 Band by just learning through the mistakes of other students like you.
Bonus: Vault of Recordings of 1-on-1 Speaking Test Practice
You will also get access to recordings in which I do mock Speaking Test practice with students and help them increase their score by 1-2 Band through personalised coaching. You will be able to self-correct yourself by learning from my feedback to other students.
SUBSCRIBE BELOW TO GET REGISTRATION LINK DIRECTLY IN INBOX
⇓